"The Bible consists of eighty different books (sixty- six without the apocrypha), composed by many different writers, in three different languages, under different circumstances; writers of almost every social rank, statesmen and peasants, kings, herdsmen, fishermen, priests, tax-gatherers, tent-makers; educated and uneducated, Jews and Gentiles; most of them unknown to each other, and writing at various periods during the space of about 1,600 years: and yet, after all, it is only one book dealing with only one subject in its numberless aspects and relations, the subject of man's redemption."
Eastons Bible Dictionary – (italics our comments)
** The Bible as we know it today, consisting of the Old and New testaments, was compiled by the Orthodox Church**
This is the Bible describing itself and how it was inspired and made to be written
Knowing this first, that no prophecy of the scripture is of any private interpretation.
21 For the prophecy came not in old time by the will of man: but holy men of God spake as they were moved by the Holy Ghost. (2 Peter 1:20-21)
All scripture is given by inspiration of God,
and is profitable for doctrine, for reproof, for correction, for instruction in righteousness: (2 Timothy 3:16)
The Holy Bible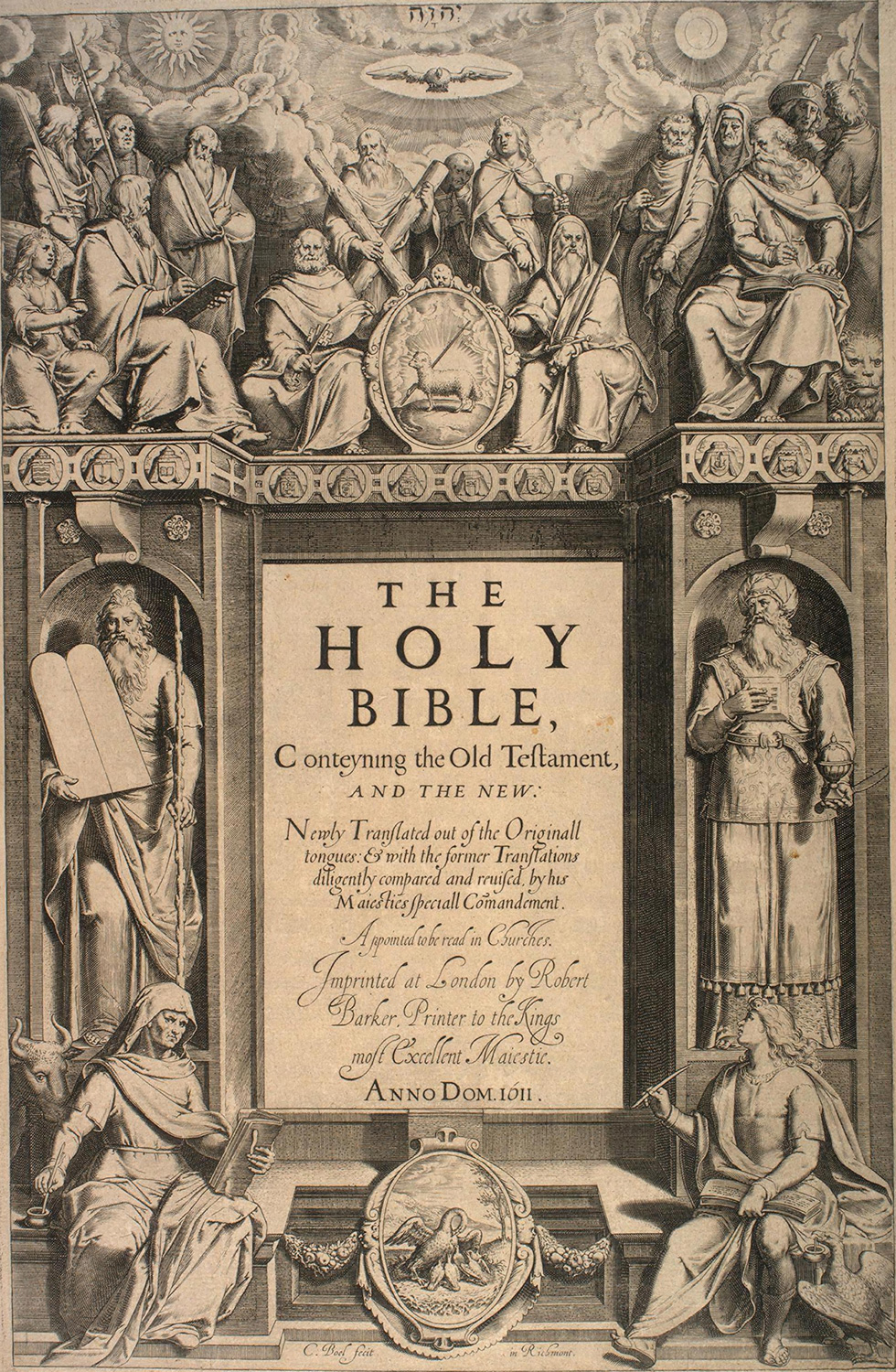 ---
More about the Bible More about the Bible

In language and contents, the Bible is divided into two main divisions.
1. The Old Testament, 53 Books with Apocrypha and 39 without.
2. The New Testament, 27 Books. Total.
Total: 80 Books including the Apocrypha 66 without.

The Books of the Bible
The books of the Old and New Testaments may each be divided into three or five groups as follows:
First Into three groups.
1. History
(1) Old Testament-Genesis-Esther (17 books).
(2) New Testament-Matthew-Acts (5 books).
2. Doctrine

(1) Old Testament-Job-Song of Solomon (5 books).
(2) New Testament-Romans-Jude (21 books).
3. Prophecy
(1) Old Testament-Isaiah-Malachi (17 books)
(2) New Testament-Revelation (1 book).
Second, into five groups.

1. Old Testament
(1) Pentateuch-Genesis-Deuteronomy (5 books).
(2) Historical Books-Joshua-Esther (12 books).
(3) Poetical Books-Job-Song of Solomon (5 books).
(4) Major Prophets-Isaiah-Daniel (5 books).
(5) Minor Prophets-Hosea-Malachi (12 books).

2. Old Testament Apocrypha
(1) 1 Esdras.
(2) 2 Esdras.
(3) Tobit.
(4) Judith.
(5) Additions to Esther.
(6) Wisdom of Solomon.
(7) Ecclesiasticus.
(8) Letter of Jeremiah.
(9) Prayer of Azariah.
(10) Susanna.
(11) Prayer of Manasseh.
(12) 1 Maccabees.
(13) 2 Maccabees.
(14) 3 Maccabees.

3. New Testament
(1) Gospels-Matthew-John (4 books).
(2) Acts-Acts (1 book).
(3) Pauline Epistles-Romans-Hebrews (14 books).
(4) General Epistles-James-Jude (7 books).
(5) Revelation-Revelation (1 book).

Download
Read/download The Holy Bible (the inspired Word of the Living God) in various formats below.

The Holy Bible translated in other languages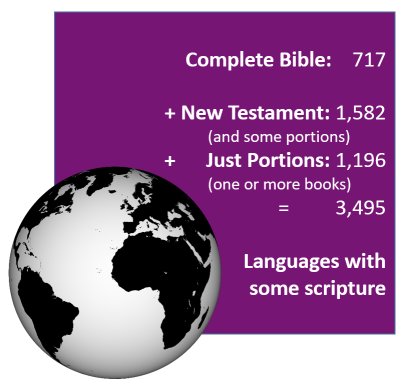 There are about 7,378 languages in active use and at least one book of Scripture exists in almost 3,500 of these languages.
At least 1.1 billion people do not have the full Bible available in their first language. Over 830 million of these have the New Testament; others have portions or at least some level of work begun.
There is known active translation and/or linguistic development happening in 2,217 languages across 147 countries.
Source: wycliffe.net/resources/statistics/
🇦🇱 Albanian Bibla e Shenjtë
🇪🇹 Amharic መጽሐፍ ቅዱስ
🇱🇧 Arabic الكتاب المقدس
🇧🇩 Bengali পবিত্র বাইবেল
🇧🇬 Bulgarian БЪЛГАРСКА БИБЛИЯ
🇲🇲 Burmese မြန်မာသမ်မာကမျြး
🇵🇭 Cebuano Bible BIBLIYA
🇨🇳 Chinese (Traditional) 聖經
🇨🇳 Chinese (Mandarin) 圣经
🇨🇳 Chinese Pinyin Sheng Jing
🇭🇷 Croatian BIBLIJA
🇨🇿 Czech česko Bible
🇩🇰 Danish Bibelen
🇳🇱 Dutch De Bijbel
🇬🇧 English – Eastern Greek Orthodox Bible (New Testament)
🇬🇧 English
🇮🇷 Farsi (Persian) کتاب مقدس
🇫🇯 Fijian AI VOLA TABU
🇫🇮 Finnish Raamattu
🇫🇷 French La Bible
🇩🇪 German – Die Bibel
🇬🇷 Greek – Βίβλος
🇮🇳 Gujarati પવિત્ર બાઇબલ
🇵🇸 Hebrew הקודש במקרא
🇮🇳 Hindi पवित्र बाइबिल
🇮🇳 Hindi (Romanized) Pavitra Baaibil
🇭🇺 Hungarian Biblia
🇵🇱 Indonesian Alkitab
🇮🇸 Icelandic Biblían
🇮🇹 Italian La Sacra Bibbia
🇯🇵 Japanese Kougo-yaku 日本聖書
🇮🇳 Kannada ಪವಿತ್ರ ಬೈಬಲ್
🇰🇿 Kazakh Қазақ
🇰🇷 Korean 성경
🇮🇹 Vulgata Latina
🇺🇬 Luganda Baibuli y'Oluganda
🇮🇳 Malayalam സത്യവേദപുസ്തകം
🇮🇳 Marathi मराठी बायबल
🇲🇳 Mongol МОНГОЛ АРИУН БИБЛИ
🇳🇵 Nepali पवित्र बाइबल (सरल नेपाली)
🇳🇴 Norwegian Bibelen
🇮🇳 Oriya ବ୍ୟ ବାଇବଲ
🇵🇱 Polish POLSKIE Biblia
🇵🇹 Portuguese Biblia Sagrada
🇮🇳 Punjabi ਬਾਇਬਲ
🇷🇴 Romanian Biblia română
🇷🇺 Russian Библия
🇷🇸 Serbian Српска Библија
🇮🇳 Sinhala සිංහල බයිබලය
🇸🇴 Somali Kitaabka Quduuska Ah
🇪🇸 Spanish La Biblia
🇹🇿 Swahili Biblia Takatifu
🇸🇪 Swedish BIBELN
🇵🇭 Tagalog (Filipino) Bibliya
🇱🇰 Tamil வேதாகமம்
🇮🇳 Telugu పవిత్ర బైబిల్
🇹🇭 Thai พระคัมภีร์ไบเบิล
🇹🇷 Turkish Kitap
🇺🇦 Ukrainian Біблія
🇵🇰 Urdu انجیل مقدس
🇻🇳 Vietnamese Kinh Thánh
🇿🇦 Xhosa Izhibhalo Ezingcwele
🇿🇦 Zulu IBhayibheli
If any of the links are not working or you wish to add languages, let us know
Bible Reading Plans Bible Reading Plans
Read the whole Bible in a year!
To read the entire Bible in a year, you need to read about 22 or 23 chapters each week. That's not as much as it sounds; for a 7 day a week plan, that's 3 chapters daily and for 5 days a week, it comes to about 4-5 chapters a day.
This plan calls for 5 readings per week. The calendar is perpetual, meaning you can begin any time through the year. They're numbered week 1, week 2 and so on, but you can write the real date in these pages to help you keep track. Below document is a nice readable chart; the very last pages give you a smaller chart that fits in your Bible to help you keep track.
Thanks to the good folks @
Bible Study Planet
, click the image below and print the document to get started!
Remember, it's not dated, so you can start today or tomorrow – right on time. If you get behind, just keep reading along. You can even do this plan with your friends & family. Simply download the file to your own computer (to print) or phone (to add annotations) so you can check the boxes as you finish each reading.
You'll be glad you did!!

All scripture is God-breathed and is profitable for teaching, for reproof, for correction, and for training in righteousness that the man of God may be complete, equipped for every good work.
2 Timothy 3:16-17
In this section: